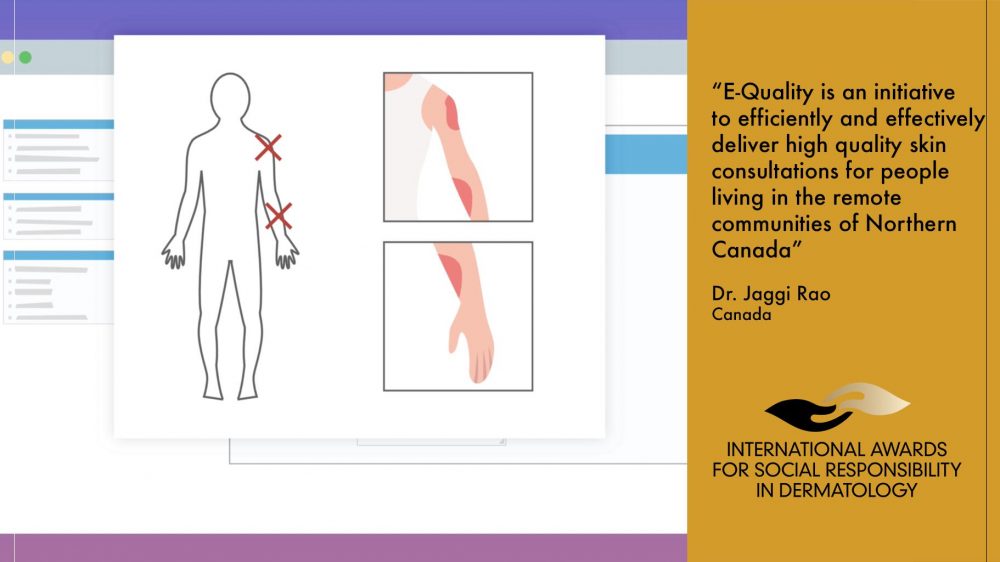 Dr. Jaggi Rao
Canada
E-Quality is an initiative to efficiently and effectively deliver, with no fee for patients, high quality skin consultations for people living in the remote communities of Northern Canada, a vast region, with no dermatologists.
The project involves the implementation of a web-based store-and-forward dermatology application as well as dermatologic training for local healthcare providers.
The Store-and-Forward Teledermatology (SFT) works with onsite image capture and communication technologies to enable remote dermatology consultations by specialists. The software used is well established now and free of charge.
The aim of this project is to accurately diagnose patients' skin issues and implement skin management strategies that will lead to an improved quality of life, self-esteem, as well as personal and social integration.
The E-Quality project has been shown to increase patient and healthcare provider knowledge on skin health as it offers tailormade dermatologist advice and feedback. Long distance travel is also avoided for patients in remote areas.
The STF Platform was set up in 2017 and has offered more than 5,000 e-consults per year to over 2,800 registered healthcare providers. The estimated target population of Canada's northern communities is approximately 300,000 people.
The next stages of the project include:
– Establishing tele-dermatology centres throughout Canada's Northern territory
– Implementing procedural flow by identifying which staff on site will perform which task
– Training of the local caregivers
– Surveys and statistical analysis to validate quality assurance will be collected and tabulated.
The grant, if won, will offset the costs involved in developing the next stages of the project. The ultimate objective of the enterprise is to improve the lives of dermatology patients in Northern Canada.